M925 M928 M936 M939 M923 hydraulic winch control valve Eaton CM-11 Vickers M932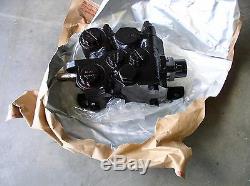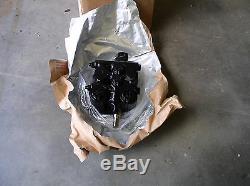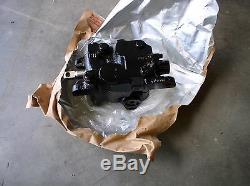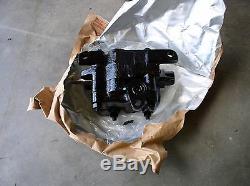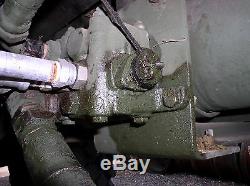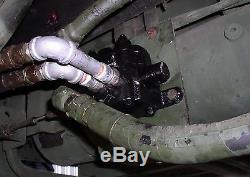 This is a hydraulic control valve, used for controlling the front winch operation on US Military M939 series 6x6 5-ton tactical cargo (regular and XLWB), tractor and wrecker trucks with front-mounted 20,000 lb capacity hydraulic winches (M925, M925A1, M925A2, M928, M928A1, M928A2, M932, M932A1, M932A2, M936, M936A1, and M936A2). This valve is located under the passenger side frame and feeds hydraulic fluid from the PTO-driven pump to the front winch in forward and reverse directions for winding and unwinding under power. It is not the valve for the rear mounted winch on the wrecker trucks, and it not the correct valve for the winch-equipped dump trucks (M930, M930A1, M930A2), as they use a double section valve for controlling the winch and the dump bed. This is improved over the original design, which had a rubber cap/boot on the end opposite the control shaft attachment. The cap was prone to dry out and fall off with time, allowing the possibility for dirt to contaminate that end of the valve. The cap was also easily damaged, allowing the valve to leak if the internal o-rings didn't seal very well. Instead of the rubber cap/boot, this has a metal cap that bolts to the body of the valve, which is much more durable (see pic of the old leaky valve on a M925A1 and the new valve in it's place). The dump trucks use a different 2-section valve that is listed with this valve's part number in the old version of TM 9-2320-272-24P-2. This will not work for stock military M939 dump trucks equipped with winches, as they would have 2 control circuits on one valve.
The correct dump truck valve might have the following part numbers. This could also be used to control other hydraulic machinery, such as a dump body or hoist on a flat-bed or cargo truck. To see the specs, just go to Google and search for "Eaton CM11 valve". The first hit should be the PDF spec sheet for these valves from Eaton's website.
From the specs and part number. This valve is a type D Spool This spool directs flow to either end of a double acting cylinder. Some other valves might be type B Spool This spool is normally used to direct flow to a reversible rotation, hydraulic motor. Cylinder ports remain partially open in the neutral position to allow oil flow between motor and reservoir. While a type "B" spool is typically used for hydraulic motors, the partially open ports allow the motor free-wheel in neutral.
So, while either will work for a truck winch application, where an internal winch brake is used, I prefer not to have my winch motor being allowed to free-wheel when in the neutral position, just in case the brake cannot hold. You definitely do NOT want a type "B" spool, free-wheeling valve for a dump cylinder application. This is not compatible with the older, mechanically driven front and rear winches on other army trucks (such as M34, M35, M35A1, M35A2, M275, M275A1, M275A2, M109, M109A2, M109A3, M108, M60, M36, M36A1, M36A2, GMC M211 and M135, M812, M813, M814, M816, M815, M817, M820, M820A1, M820A2, M821), but could be used with a hydraulic pump to operate auxiliary equipment, like a snow plow power angle feature or a dump hoist. This would not be ideal for a snow plow lift/lower application.
You would probably want a "B" spool valve for that, since it should allow the plow to "float" in neutral. If you are adding a front winch to your M923, M923A1, M923A2, M927, M927A1, M927A2, M931, M931A1, or M931A1 truck, then this part is what you need to actually operate the winch. Thank you for your understanding. The item "M925 M928 M936 M939 M923 hydraulic winch control valve Eaton CM-11 Vickers M932" is in sale since Friday, February 7, 2020.
This item is in the category "eBay Motors\Parts & Accessories\Other Vehicle Parts\Other". The seller is "454nova" and is located in Rosedale, Maryland. This item can be shipped to United States.
Manufacturer Part Number: CM11N02R12DL521233
Brand: Eaton / Vickers

---