6 GPM 2 Spool Metro Hydraulic DA Control Valve withFloat Joystick 9-12812-J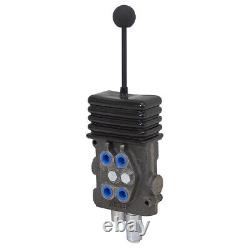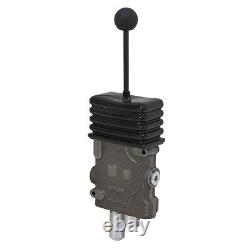 6 GPM 2 Spool Metro Hydraulic Directional Control Valve w/Float Joystick Operated D2DTTT1TT2QJS 9-12812-J. COMPACT 2 SPOOL JOYSTICK DOUBLE ACTING DIRECTIONAL CONTROL VALVE Brand new METRO D series directional control valve for operating double acting cylinders. Joystick single lever control to operate both spools independently or simultaneously. Ideal for small tractor and other low flow applications requiring a compact control valve.
Features include monoblock construction, load check, built-in adjustable pressure relief valve, spring centering spool action. In/Out ports on bottom, work ports on side when valve is mounted vertical. Open Center Convertible to power beyond or closed center. Relief Valve 2500 PSI, adj.
Size 6-1/4" x 4-1/2" x 2-1/4. Spool Details: Spool 1 DA cylinder spool, spring to center w/detented float Spool 2 DA cylinder spool, spring to center. If you receive a product from us and are not satisfied or the item is not suitable for your application, you can return it within 30 Days, as long as the item has not been installed or modified and it is in the original manufacturers condition. Surplus Center has been in business since 1933. Surplus inventory is usually due to manufacturers design changes, business closings or inventory adjustments.
Often these are priced at only a fraction of normal cost. We sell Pneumatics (AIR), Electrical, Engines/Automotive, Hydraulics, Power Trans, Water Pumps, Wheels/Casters. Quantities of surplus items are limited; once we sell out we cannot order more.
We use the following product classifications to describe our items: New - Excess inventory that is new and unused. New Takeoffs - Removed from UNUSED machinery. Used - Equipment that was in use when we bought it.
These items are in good working condition. Brand New Products - In addition to our surplus items, we also stock products from major manufacturers to keep the products that you need on hand. We classify these products as Brand New.

---