1x FLOATING 3 Spool Hydraulic Directional Control Valves 2x DA Double 40L 11 gpm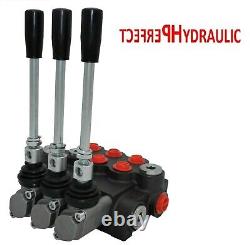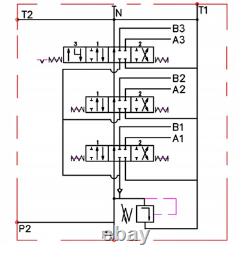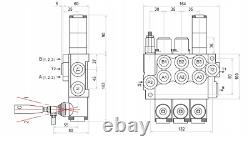 NOTE: We issue VAT invoices for countries in the European Union. 3 Spool Hydraulic Directional Control Valve 11gpm 40L. 2x Double Acting Cylinder DA.
Hydraulic distributors are guaranteed for 2 years. It is used in hydraulic systems in agriculture, horticulture, forestry, construction and industry. The distributor is adapted to different types of machines: agricultural machines, tractors, sprayers, front loaders, construction machines, loaders, excavators, sweepers, industrial machines and for other applications hydraulically controlled.
Recommended oil flow in the system: 0-40L / min. Control example: double-acting hydraulic cylinder. Possibility of series connection to the existing system (requires connection of a pressure sleeve). Three-position lever (1-0-2), spring-loaded, ie it moves back into the vertical position.
Neutral position 0 (lever up), piston rod of the hydraulic cylinder is stationary - oil overflows. Working position 1 (lever up), the piston rod of the hydraulic cylinder slides out. Working position 2 (lever up), the piston rod of the hydraulic cylinder retracts. Pump supply (P): female thread BSP 1/2. Output for sections (A, B). Pressure range Maximum supply pressure: 250 bar. Maximum return pressure: 50 bar. Maximum pressure in sections: 300bar. Bypass valve (safety) set at the factory to 175 bar. Self-adjusting, full turn 30 bar displacement. Permissible ambient temperature: 40 ° C to + 60 ° C. Permissible oil temperature: 15 ° C to + 80 ° C. Dimensions can be changed slightly.

---